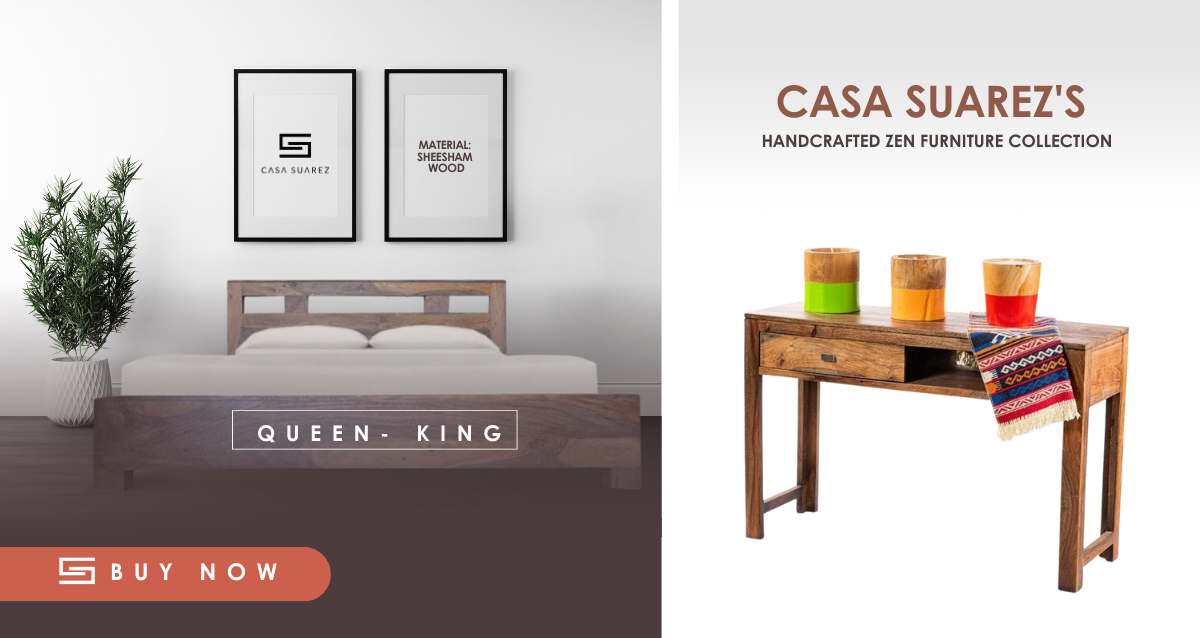 Casa Suarez's Handcrafted Zen Furniture Collection
Casa Suarez furniture stands out because it aligns exquisite craftsmanship and sustainable design in a world where eco-consciousness and style go hand in hand. This is why we are proud to introduce you to two products from our Zen Furniture Collection that exemplify our commitment to a greener, more elegant lifestyle. Let's explore the Zen Sheesham Wooden Bed and the Zen Console Desk, where modern sophistication meets eco-friendly functionality.
Zen Sheesham Wooden Bed: A Sustainable Slumber
The Zen Sheesham Wooden Bed is a demonstration of Casa Suarez's commitment to sustainable living. Crafted from solid Indian Sheesham wood, renowned for its durability and distinct grain patterns, this bed represents a combination of timeless beauty and eco-consciousness, providing a restful night's sleep while minimizing its environmental impact.
The Material Matters
Indian Sheesham wood is the primary material for this bed. This sustainable choice ensures the preservation of forests and promotes responsible forestry practices.
Designed for Excellence
The Zen Sheesham Wooden Bed is a modern statement piece with its cutout headboard, adding a touch of contemporary allure to your bedroom. The craftsmanship is impeccable, ensuring a scratch-free and aromatic experience. No box spring will be needed! The solid mattress support will ensure a comfortable night's sleep.
The assembly process
The assembly process is straightforward. In fact, the bed comes with all the tools you will need to set it up to ensure a smooth and efficient process.
The Zen Console Desk: Where Work Meets Style
For those seeking a workspace that reflects their taste, the Zen Console Desk is the answer. Made from rosewood, a durable and natural material, this desk is a nod to the past with a vision for the future.
Functional yet Stylish
Our artisans aimed to do more than just crafting a functional desk; they aspired to create a distinctive piece that effortlessly infuses vintage industrial charm into various settings, whether it's your home office or living room. This is the driving force behind the Zen Console Desk, thoughtfully designed with an expansive desktop, a display shelf for showcasing your cherished items, and a practical storage drawer. Its compact, graceful design makes it a versatile addition to any room.
Eco-Friendly and Durable
Constructed from Acacia wood, this desk is not only solid and sturdy but also eco-friendly. The Zen Console Desk isn't just a desk; it's a statement of your commitment to a sustainable lifestyle.
Why Choose Casa Suarez?
At
Casa Suarez
, our mission is to partner with artisans worldwide, to create handmade, ethical, and eco-friendly products. We believe this is what sets apart our products and encourages our customers looking to invest in quality furniture and in a greener future.