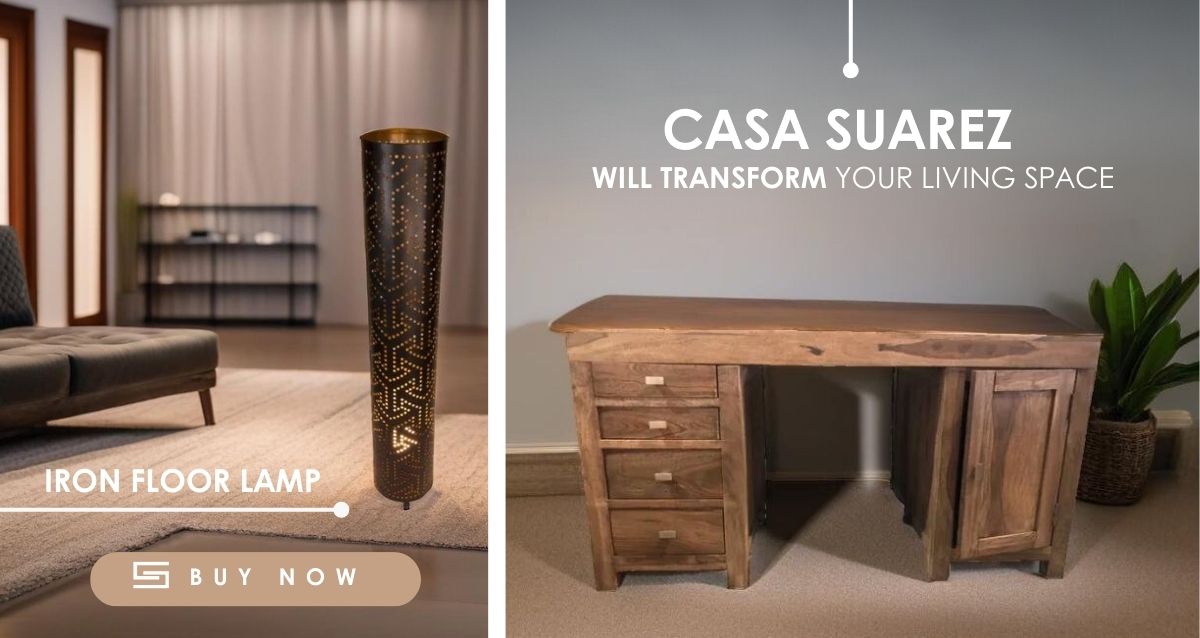 Adding Elegance and Functionality to Your Home with Casa Suarez
In a world that's becoming increasingly conscious of the environment, the demand for sustainable and eco-friendly furniture is on the rise. At Casa Suarez, we are dedicated to offering modern furniture that not only meets your needs but also cares for our planet and stands at the forefront of this movement. With a commitment to handcrafted, eco-friendly pieces, Casa Suarez offers a range of exquisite furniture that effortlessly blends style and sustainability.
Discover our Iron Floor Lamp
Illuminate Your Space
When it comes to creating an inviting ambiance in your home, lighting plays a pivotal role. Casa Suarez's Iron Floor Lamp is a contemporary masterpiece that effortlessly combines style, functionality, and eco-consciousness. Standing at an impressive 118 cm in height, this floor lamp is more than just a lighting fixture; it's a statement piece.
Sustainable and Eco-Friendly
Crafted by skilled artisans in India, this floor lamp showcases a brown metallic finish that exudes sophistication. What sets it apart are the captivating decorative punches adorning the lampshade. These unique patterns create a mesmerizing play of light, adding a touch of enchantment to your space. No matter where you choose to place this lamp, it is guaranteed to become the highlight of the room.
At Casa Suarez, we understand the importance of sustainability. The Iron Floor Lamp is made from iron, a durable material that not only ensures the lamp's longevity but also aligns with the brand's eco-friendly ethos. To further enhance its functionality, the lamp features a practical step switch for easy on and off operation. For optimal energy savings and longevity, we recommend using LED bulbs with this lamp.
Introducing Casa Suarez Zen Console Desk
A well-designed workspace is essential for productivity and creativity. Our Zen Console Desk combines form and function to provide a versatile solution for your home office or living space. Its vintage industrial style makes it a standout choice for those who appreciate elegance and sustainability.
Eco-Friendly Excellence Meets Beauty
Rosewood, known for its durability and beauty, was used in the creation of this console desk. The notoriously beautiful rosewood brown finish can add warmth and character to any room, making it an ideal addition to your home.
Thanks to its generous tabletop, shelf for display, and convenient drawer, organization becomes effortless.
Casa Suarez will transform your living space
At Casa Suarez, we are dedicated to creating eco-friendly, artisan-made furniture that combine style and sustainability. With the Iron Floor Lamp and Zen Console Desk, you're not just decorating your home; you're making a conscious choice to support global artisans and our precious planet!
Explore our Lighting collection and Desks collection at Casa Suarez and discover how you can easily elevate your living spaces with our statement pieces.