Article: Elegance Redefined: Casa Suarez Side Table Collection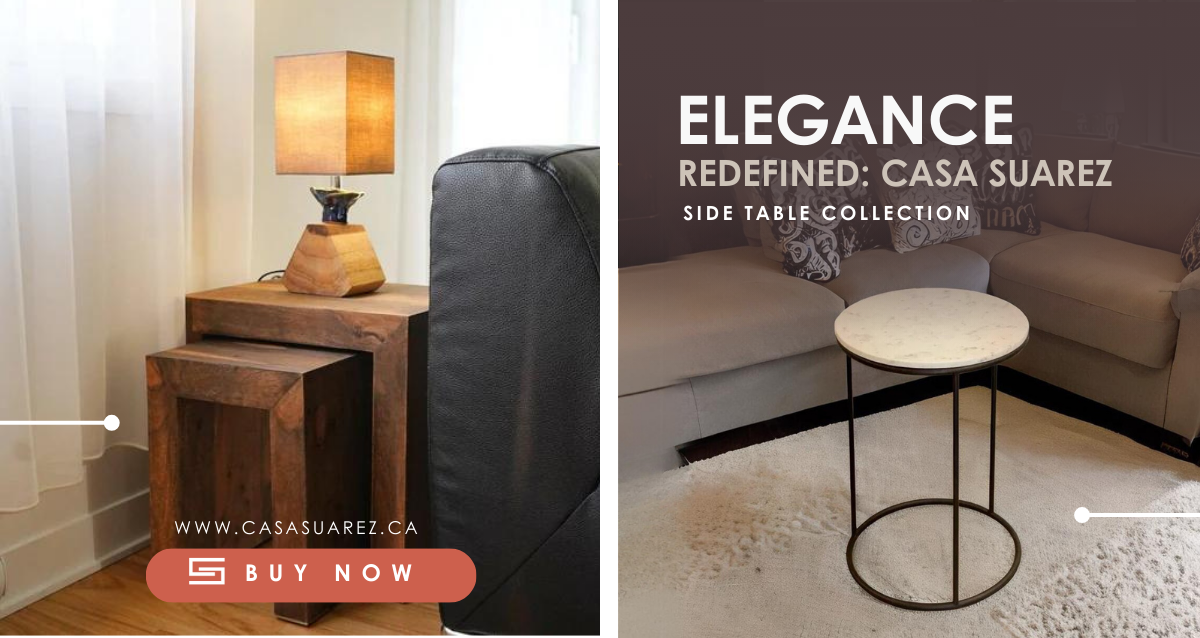 Elegance Redefined: Casa Suarez Side Table Collection
Would you like to add a touch of sophistication and functionality to home or office? Casa Suarez offers an exquisite collection of side tables that seamlessly merge style with utility. In this article, we will explore the distinctive attributes and advantages of two of our most popular side tables: the Casa Suarez Iron & Marble Nesting Table and the Casa Suarez Zen Side Table Set.
Casa Suarez Iron & Marble Nesting Table
A minimalistic marvel
The Casa Suarez Iron & Marble Nesting Table stands as a paragon of minimalistic beauty. Skillfully created by combining iron and marble, this table boasts a design that is both understated and elegant, seamlessly harmonizing with any interior.
For those seeking a surface to enjoy their morning tea or to neatly stack beloved books, the marble top offers a delicate texture, infusing a touch of timeless charm into your decor. Its versatility makes it a functional and aesthetically pleasing addition to any room.
Sustainable Sourced Materials and Expert Craftsmanship in India
The materials employed in the construction of this table not only offer visual appeal but also uphold Casa Suarez's dedication to ecological responsibility. The fusion of iron and marble results in a robust and long-lasting piece, embodying durability. Handcrafted in India, our Casa Suarez Iron & Marble Nesting Table benefits from the skilled touch of local artisans who created each unit with care.
By selecting this table, you're not only embracing the artistry of these craftsmen but also actively contributing to sustainable practices.
Casa Suarez Zen Side Table Set
Functional and Elegant
If you're in search of elegance combined with a dash of retro charm, the Casa Suarez Zen Side Table Set emerges as the ideal selection. These sturdy solid wood tables are meticulously crafted to elevate the ambiance of your living space. With a seamless blend of simplicity and functionality, the versatility of these tables is truly unparalleled.
They serve as multipurpose pieces that can transform into nightstands, coffee tables, or even provide additional storage in both your home and office settings.
Plus, the Casa Suarez Zen Side Table Set is compact and lightweight, making it easy to move around and adapt to different spaces.
Sustainable Rosewood Elegance
The warm rosewood brown color brings a contemporary touch to any space. The Casa Suarez Zen Side Table Set is an effortless solution for displaying your books, glasses, and various decorations. They will excel in creating a snug reading nook or in serving as a stylish platform for a decorative lamp.
Much like our other products, this set of tables shows our commitment to sustainability. The selection of materials and craftsmanship ensures that these pieces do not only enhance the aesthetic appeal of your space but also actively contribute to a more environmentally conscious world.
Elevate Your Living Space with Casa Suarez's Side Table Collection
Casa Suarez invites you to explore the world of handcrafted, eco-friendly, and stylish furniture. Our Casa Suarez Iron & Marble Nesting Table and Casa Suarez Zen Side Table Set are just two examples of our commitment to excellence and sustainability.
Visit Casa Suarez to explore our entire collection and make a positive impact on your space and the planet.