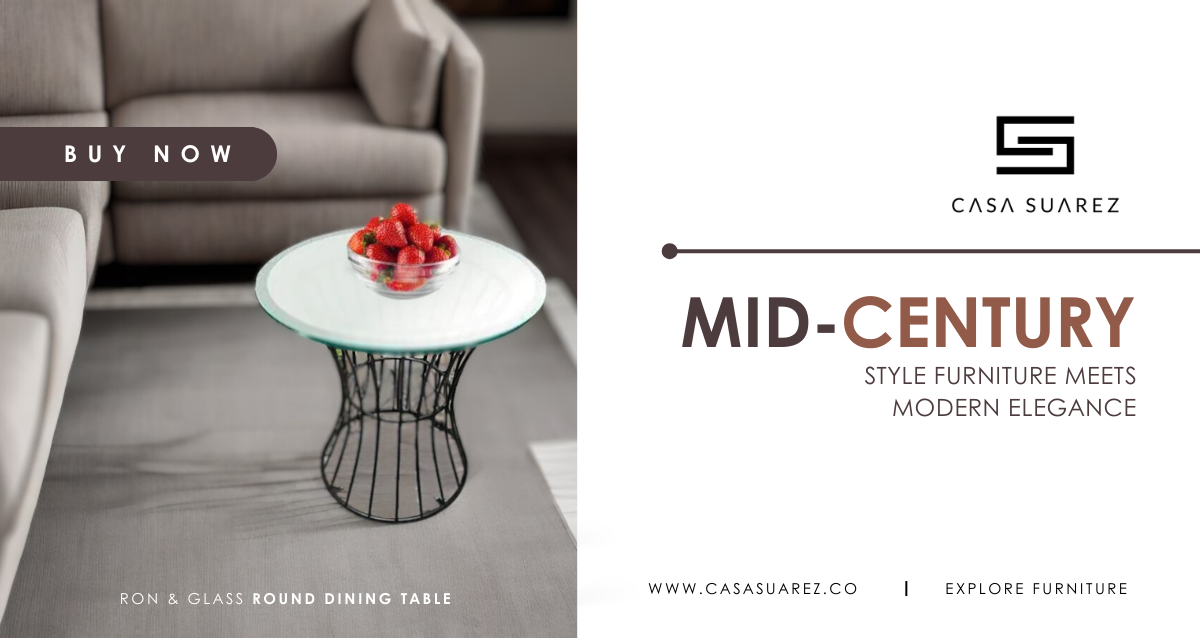 Mid-Century Style Furniture Meets Modern Elegance
Sophistication meets modern dining spaces in the Casa Suarez Mid-Century Modern dining table. Elevate your dining experience with this exquisite piece of furniture that seamlessly combines timeless design with contemporary elegance.
Contemporary Chic: Our Mid-Century Modern dining table boasts an elegant black and white design that will surely be the focal point of any room. The dark-veined glass top complements the sleek aluminum base, creating a striking visual contrast.
Perfect for Your Space: With comfortable seating for four, this round table is ideal for kitchens, dining rooms, and contemporary homes. Whether hosting a dinner party or enjoying a casual meal with your family, this table sets the stage for a memorable dining experience.
Durable and Lasting: Crafted with durability in mind, our dining table is built to withstand the rigors of daily use. You can enjoy its beauty and functionality for years, making it a valuable addition to your home.
Handcrafted Excellence: At Casa Suarez, we take pride in handcrafting our furniture pieces. This dining table is no exception, with every detail meticulously crafted by skilled artisans in India. It's more than just a piece of furniture; it's a work of art.
Transform your dining room with the Casa Suarez Mid-Century Modern dining table. It's the perfect addition to your modern home, sophisticated, elegant, and built to last. Make a statement with your dining furniture - shop Casa Suarez today!
Marble + Iron = Timeless Elegance: Casa Suarez's Dining Table
Experience luxury living with the Casa Suarez Iron and Marble Dining Table. This stunning piece of furniture is designed to elevate your dining room to new heights of elegance.
Luxurious Marble: The dining table features a luxurious marble top with distinctive broken edge detailing. Every glance at this masterpiece reveals the intricate beauty of natural marble, making it an actual work of art.
Sleek Iron Base: The sleek iron base of this table complements the marble perfectly. It adds a touch of exclusivity and modernity to the overall design, creating a harmonious and understated elegance.
Perfect for Small Spaces: While exuding opulence, this handcrafted Indian table is perfectly sized for small spaces. It makes a sophisticated style statement in a cozy dining nook or an intimate formal dining room.
Elevate your dining room with the Casa Suarez Iron and Marble Dining Table. Indulge in the timeless elegance of marble and the contemporary allure of iron. Luxurious decor awaits - shop Casa Suarez now and follow our Instagram for offers and timeless-modern furniture pieces.