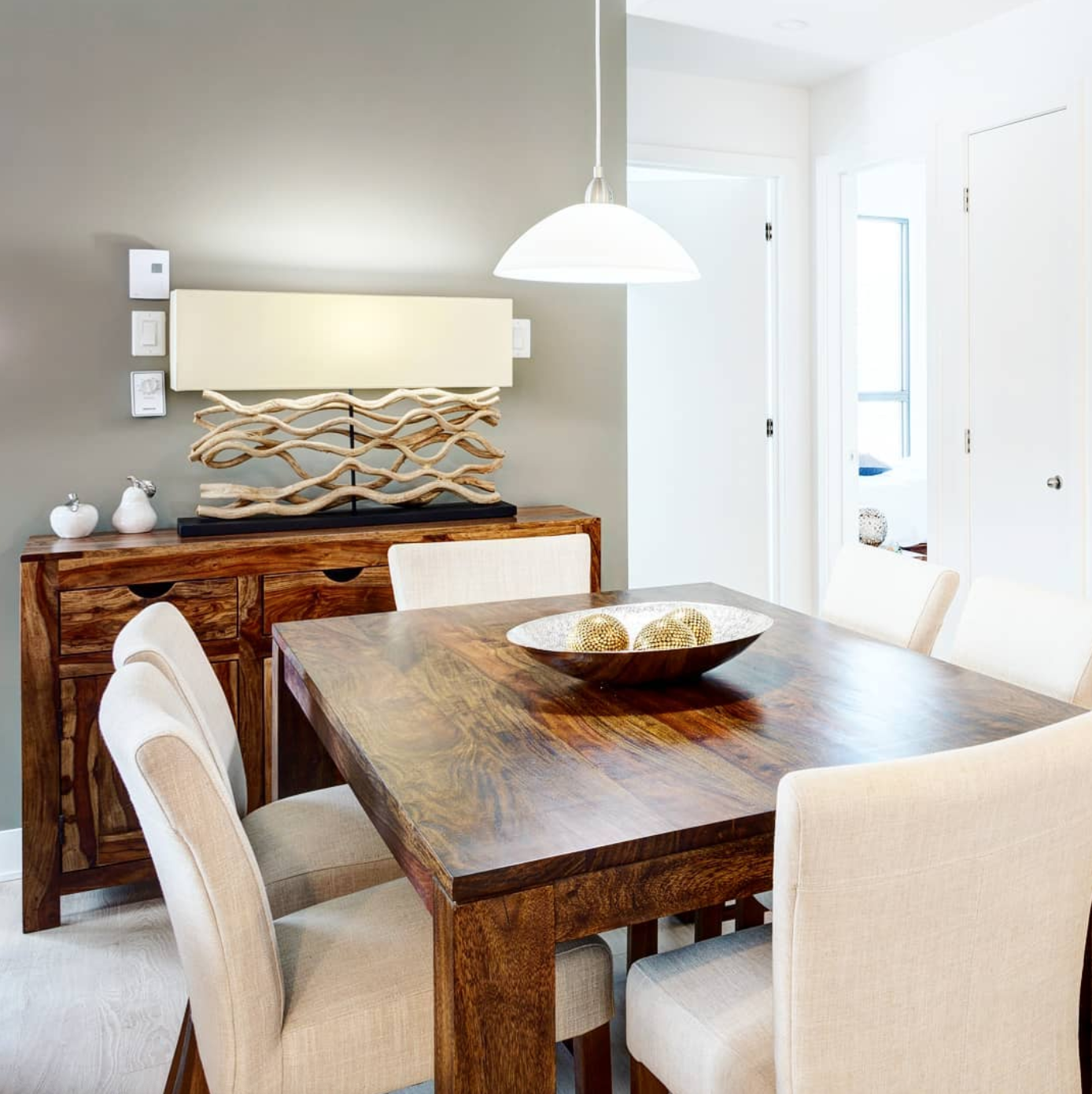 How to Choose the Perfect Dining Room Set for your home
The dining room is a space where we love to share with family and friends. It is the space to enjoy delicious meals and create fond memories. That's why choosing your ideal dining room table set is a decision we should not take lightly. In fact, there are many vital aspects to consider that will help us make the best choice. In our blog, we explain in detail.

Things to Consider Before Purchasing Your Dining Table
When buying your dining table, you should pay attention to your room's space, style, colour, and essence. This will help you know which material, colour and shape to choose for your dining room. You must consider the number of people you have in your family and those you also want to host. This will be the first phase to making the best decision.
Choose the Shape of Your Dining Table
When choosing the shape of the table, you must consider the space of your living room and the people in your family.

The classic rectangular table is ideal for large spaces, although it is also usually an excellent solution for small spaces because if it is placed against a wall, you can save a lot of space. On the contrary, oval tables have a smaller footprint but can also be ideal for small spaces and families.
Don't Leave the Chairs Behind
The chairs in your dining room are as important as the table. When choosing them, think about your comfort. These chairs are often used to welcome guests, sit and chat in the living room, study, or even work. Choose comfortable upholstered chairs in which you can stay seated for hours without struggling or in pain.
A bench is an excellent piece of furniture to add style to your home. Another great idea is to use benches as dining chairs; this saves space and will fit more people at the table. Choose the colours that best suit the aesthetics of your home and complement your dining room with beautiful chairs.
At Casa Suarez, we have a variety of chairs that can give the sparkle you are looking for in your dining room.
Focus On Quality and Not Price
Obviously, you will not spend all your money on a dining room, but you must invest in durable and high-quality tables. This will surely be a piece you want to enjoy for a long time and will be more an investment than an expense. Then, think about the materials. The best material for dining tables is wood since this is very resistant, durable, and gives a lot of styles. Find the model you like, visualize it in your home and enjoy it. Your new dining room will likely become an heirloom...
The Cherry on the Cake of Your New Dining Room
The most important thing is to know how to combine for an unparalleled aesthetic. Once you have chosen the table and chairs, it's time to put the cherry on the cake. Decorate your dining room with accessories such as vases, fruits, table runners, colourful placemats or elegant tablecloths. All this will depend on your taste and the style you want to give to your dining room. Here we inspire you with the ideas and furniture from Casa Suarez, but you are the one who creates the magic in your home.
Visit our Instagram and get inspired by the new Casa Suarez collections.