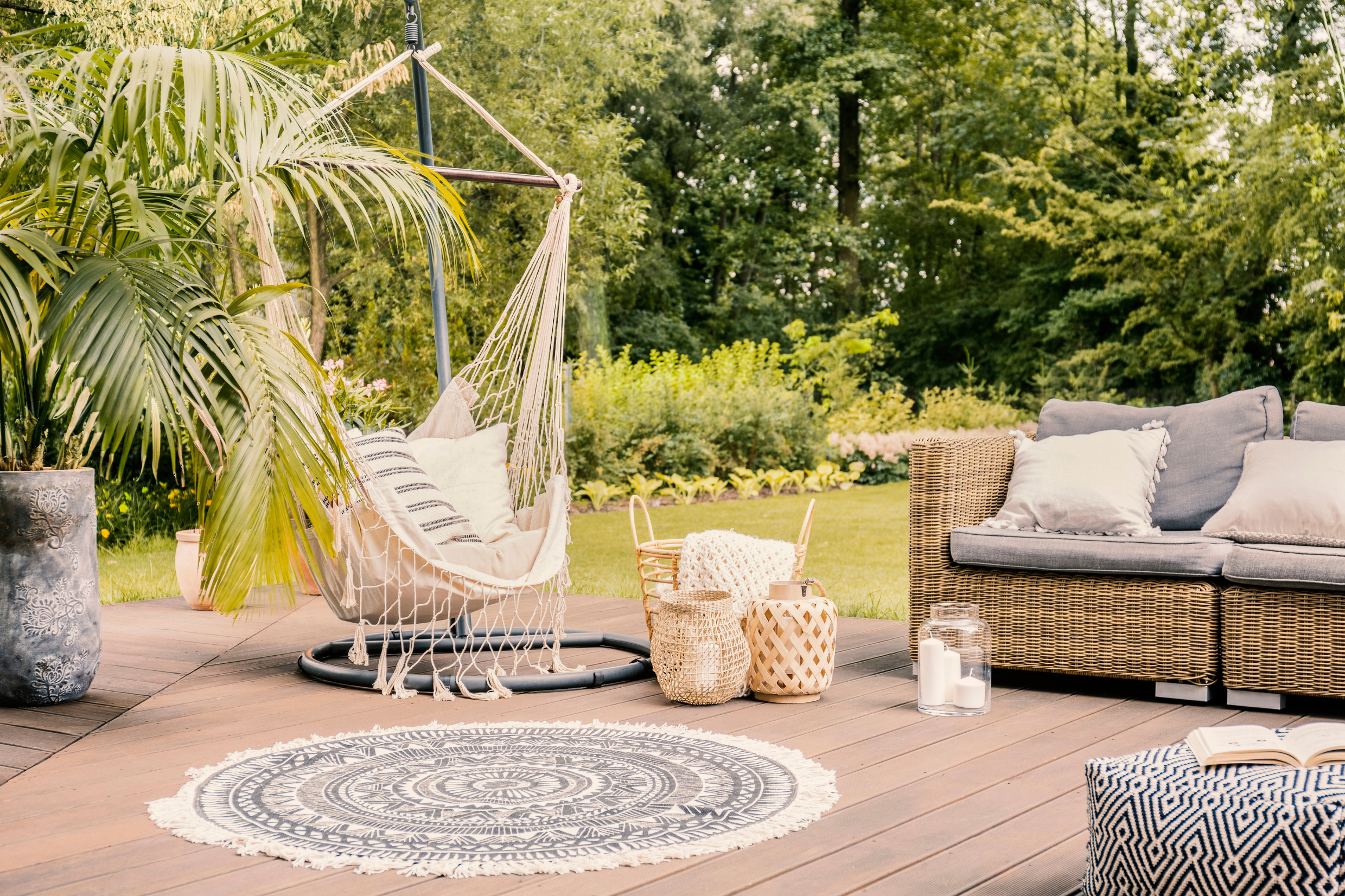 How to Add Charm to Your Terrace This Summer
Summer is finally here, that time of the year when the sun starts to warm up, the days get longer, the plants start to bloom and the nights start to have pleasant temperatures. You are starting to feel like giving use to your terrace, aren't you? Well, in this blog we are going to share with you some tips and ideas to furnish and decorate charming terraces.
Start by Choosing Your Furniture Wisely 
The first thing we must be clear about is the approach we want to give to our terrace. Whether it is rustic, modern or more bohemian. To do this, we must choose furniture that goes with your style. For example, to create a cozy and rustic space, you can choose to add more wooden elements, either decorative or furniture itself, and accompany the wood with natural fibers. Furthermore, you can complement with accessories such as plants, cushions or lighting. 
On the other hand, it is very important to choose furniture that is resistant to exposure to sun, rain, cold and wind. Since these will be outdoors and will be much more exposed. Wood, steel and wicker are good materials that can withstand the outdoors. You can get inspired by our Casa Suarez collection to choose the material that suits you best. 
Distribute Wisely the Space 
The first thing to keep in mind when decorating your terrace is to distribute the spaces in a conscious and organized way. If you have enough meters, you can divide the space into different areas. For example, you can define a chill out area to enjoy moments of relaxation,  an outdoor dining room, or a quiet place for reading time.
Make sure that this area is in the shade, and if possible, that there is a little breeze to make your relaxation corner the favorite place in your home.
Don't Forget the Lighting
In order to enjoy the coolness of summer evenings on your terrace, it is essential to have adequate lighting. A pleasant environment can be achieved with a garland of dim lights, which will create a calm and peaceful atmosphere.
Another very good alternative is to place a wicker or glass lantern with an artificial candle inside. If you place several along the terrace, it will give a romantic, cozy and relaxing air. 
Enhances the Vegetation of the Space 
Undoubtedly, something that can not miss on any terrace are plants and flowers. One of the greatest pleasures of having a terrace is the direct contact with nature. Flowers and plants bring light, color and joy to any room. Then, get to work and create a dream garden on your terrace. 

On the other hand, if gardening is not your thing, you can get advice from an expert and choose plants that do not require much watering and that adapt easily to temperature changes.
Protect Your Furniture
Although some furniture is more resistant than others, they all needs to be maintained. If your furniture is exposed to the sun and weather changes, it is important to clean, moisturize and polish it. This will make your furniture last longer and look beautiful on your terrace.

Read our blog on wood care to keep your Casa Suarez furniture looking great. 
If you are thinking of furnishing and decorating your terrace you are in the right place. In Casa Suarez we handle a variety of perfect outdoor furniture that will make your space look great.

Buy your terrace furniture at the best price in our online store and start your remodeling.