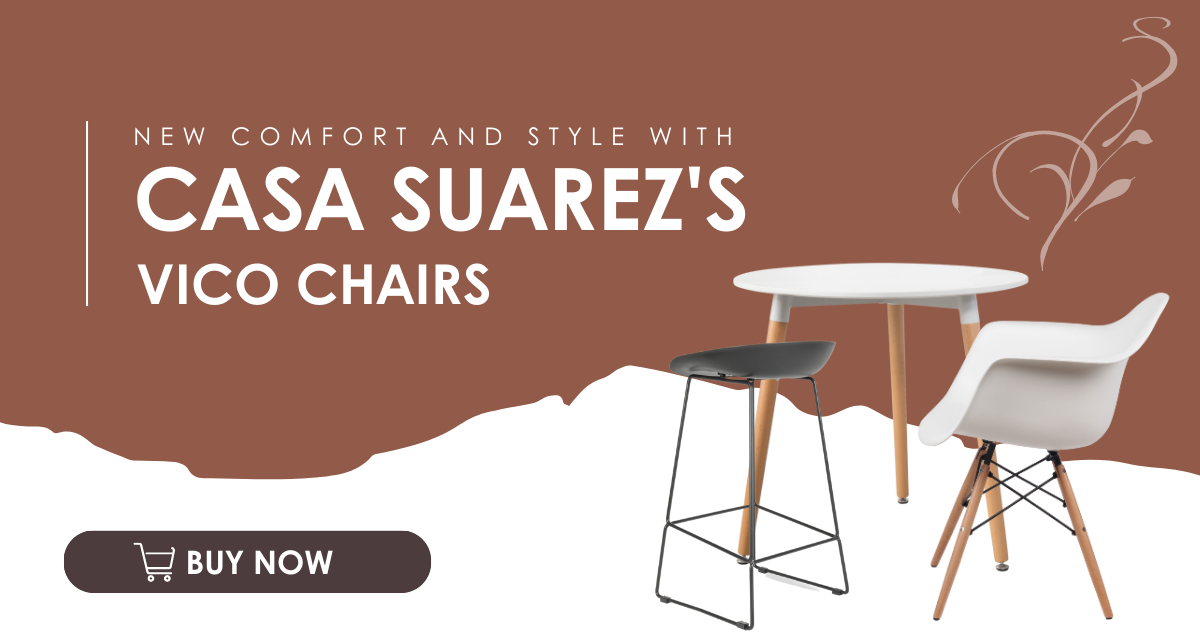 New Comfort and Style with Casa Suarez's Vico Chairs
Discover the perfect combination of comfort and style with Casa Suarez's Vico Chairs. Crafted with sleek designs and premium materials, these chairs are designed to enhance any residential or commercial space. Let's explore the range of options available, each offering its own unique touch to elevate your interior.
Leisure Chair: White Color and Wooden Legs
Experience ultimate relaxation with our Leisure Chair, featuring a pristine white color and sturdy wooden legs. This chair adds a touch of elegance to any room while providing exceptional comfort for hours of lounging.
Bar Chair: Black Color with Metal Legs
Add sophistication to your bar area with our Bar Chair, boasting a sleek black color and modern metal legs. Its ergonomic design ensures comfort, making it the perfect seating option for elevated dining experiences.
Leisure Chair: Black and Grey Colors, Polypropylene
For a versatile and trendy option, our Leisure Chair in black and grey colors, constructed with Polypropylene, is an excellent choice. The contrasting hues create visual interest, while the Polypropylene material offers durability and easy maintenance.
Leisure Chair: Black Color, Polypropylene
Infuse your space with modernity using our Leisure Chair in classic black color, made from high-quality Polypropylene. Its minimalist design and clean lines make it a perfect fit for various settings, from dining rooms to home offices.
Shop CasaSuarez for Exclusive Offers and Stylish Furniture
Elevate your interior with CasaSuarez's Vico Chairs, the ultimate blend of comfort and style. Whether you're furnishing your home or enhancing your commercial space, our chairs provide ideal seating solutions. Visit our website today to explore our wide range of furniture options and exclusive offers! Experience the art of living beautifully with CasaSuarez. Shop now and unlock a world of stylish possibilities. Follow our Instagram account to stay updated on the latest offers and pieces!